Top Tips To Get Your Dashboard To Shine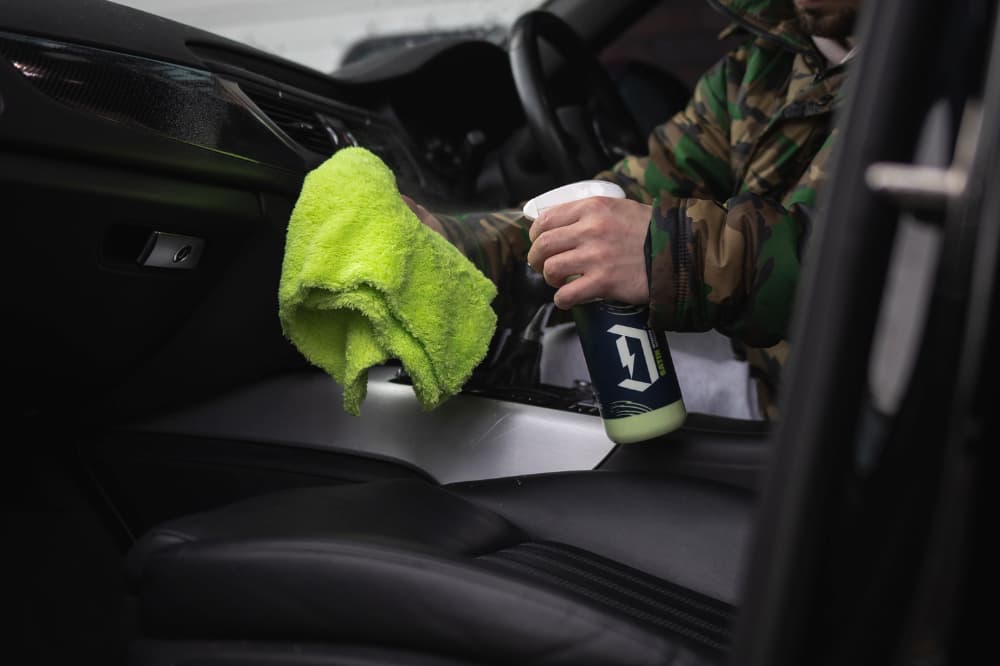 Maintaining the cleanliness of your car interior can take some work, especially if a prolonged period has passed since you have cleaned it. There is perhaps a multitude of reasons why you have not been able to maintain the freshness of your car interior.
Perhaps depending on your job and lifestyle, you may not have the time to properly clean your car interior and as a result, the surface of your dashboard remains unattended.
Although depending on how much time you spend in your car, you should always try to eliminate the reason for not cleaning and pencil some time to do so. As you will quickly find that the longer you are not cleaning your car interior - the more clutter, dirt and dust will accumulate over time.
That's why in this latest guide, we will be providing you with our top tips to get your dashboard to shine. Although, firstly, if you are a new car owner, you might not know the importance of cleaning your car interior or the required products to do so. Therefore, allow us to elaborate:
Upholding The Cleanliness Of Your Car Interior:
As with most objects, over an elongated period - you will discover a buildup of various dirt, dust and other contaminants. Resulting in you likely deciding to undergo a weekly cleaning session perhaps. This is no different for the exterior and interior of your car.
Over time, you will begin to notice this buildup, especially should your job and/or lifestyle result in you spending extended periods in your car. This will likely result in your car getting dirty all the quicker.
It is also important to note that a build-up of dust can become abrasive. This means that the dust will begin to scratch more sensitive surfaces of your vehicle. Coupled with any unattended waste that has accumulated in your vehicle is prone to produce fungus issues should they not be dealt with promptly.
Should you find yourself in a similar predicament you will need to conduct a full sanitised clean of your vehicle safe, least of all less repulsive. So what does this mean to your dashboard? To get the best clean possible, allow us to elaborate:
Showing Additional Love For Your Dashboard:
The dashboard is a massive part of your car interior. Simply put, whether you are paying attention or not - whether you're taking notice or not, the dashboard will be in your peripheral vision. This means that should the dashboard of your car be rather dirty, people who enter your car might quickly discover that your dashboard has accumulated a fair amount of dirt.
For most car enthusiasts, the dashboard can serve as the showpiece for the interior and as mentioned above, the dashboard is the area that you will be looking at most of the time.
Due to there being a plentiful amount of car manufacturers that produce vehicles of all shapes and sizes, this means that bespoke dashboards will feature various levels of premium materials whilst having their unique nooks and crannies.
With this in mind, you will need to have special cleaning products that are specifically formulated for car interiors. We provide one such product.
The Satin - Interior Dressing & Cleaner:
Introducing the Satin-Interior Dressing & Cleaner. This car interior dressing is a gentle cleaning and dressing option that implements anti-static properties that leave surfaces clean and dust-free without leaving any traces of residue. The Satin-Interior Dressing & Cleaner also boasts an amazing scent which freshens the entire interior space with a citrusy lime scent.
This car interior dressing & cleaner works great on the dashboard of your car whilst being ant-static, and non-greasy whilst also having an OEM finish. This can also clean and finish in one easy application.
To get the most out of your dressing & cleaner, we suggest that you spray your interior car cleaner onto a microfibre cloth and wipe it across the surface of your dashboard. For additional help on getting the best results with your new interior cleaning products, why not watch our guide which will leave your car interior clean and dust-free.
Alternatively, you can opt for our blinding shine kit. This car shine kit can produce a level of finish akin to expert car detailing providers. This car care collection has been crafted to serve two purposes. The first is that the products are easy to use whilst offering an unparalleled level of shine. Included in this kit are the following products:
Bahama Blue - High Concentrated Shampoo
Toxin - Iron Fallout Remover
Satin - Interior Dressing & Cleaner
Nitro - Quick Detailer
1 x General Purpose Microfibre
1 x Coral Fleece Microfibre
Each of these products makes for one of the best car cleaning product collections on the market. This kit comes available in both 500ml and 1-litre sizes.
Why Should You Use A Microfibre Cloth?
Regarding microfibre cloths, these can trap dirt and dust in an unprecedented fashion. Allowing you to use them whether they are dry or wet - these are also ideal for cleaning the interior of a car because they will not scratch any of your upholstery as well as any hard surfaces. You can wash your microfibre cloths in-between uses which will reduce the number of paper towels and disposable wipes being wasted.
Conclusion:
In conclusion, monitoring the buildup of dust and dirt on your dashboard should be an ongoing assessment. By doing this you will be able to maintain the cleanliness of your car's dashboard which will surely make the experience of driving your car all the more enjoyable.
There is a multitude of car interior cleaning products available on the market, although none more effective than the Satin - Interior Dressing & Cleaner that we provide at Duel Auto Care.
For more information and tips to maintain the freshness of your car, why not browse our latest guides. We cover everything from the exterior and interior of your vehicle. Alternatively, take a look at the vast selection of car cleaning products that we offer. Each of these is tailored to ensure you maximise your car cleaning results.