Demystifying The Myth: Does Tyre Dressing Damage Tyres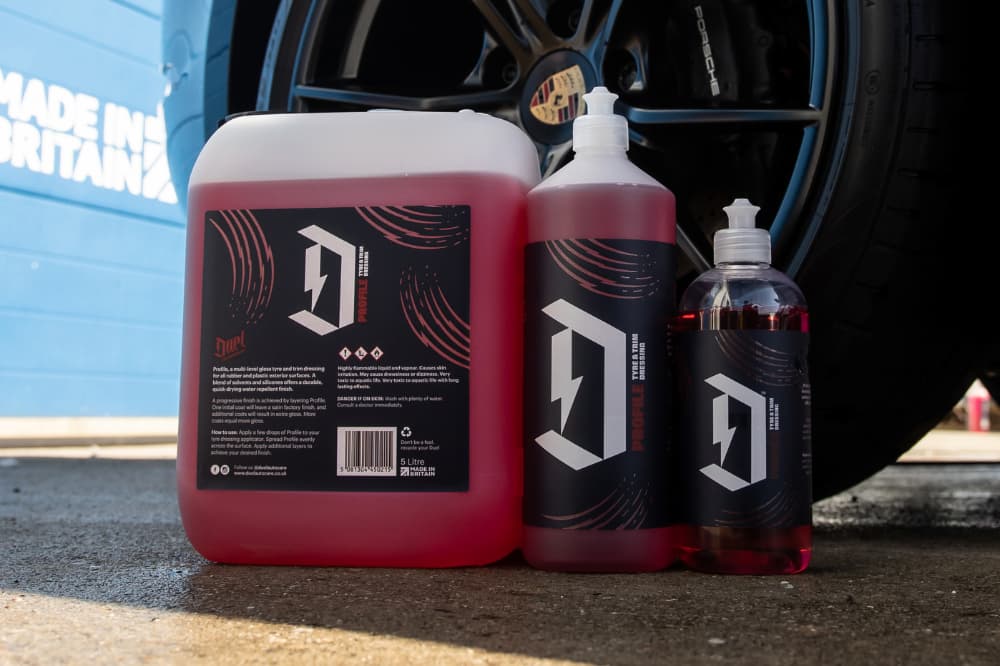 As a car enthusiast, a regular driver or someone new to the road entirely - you will most likely want your car to look as good as it can be concerning all aspects of your vehicle. This includes regularly washing your car and polishing and buffing the paintwork and body of your car. This is also coupled with cleaning your car interior as well as your tyres.
The latter is especially important because most car owners are prone to overlooking the treatment of their tyres. To make their tyres shine once again, more and more people are opting to implement tyre dressings in their car washing process.
Although, a commonly asked question has occurred among car cleaning aficionados - this being, does tyre dressing damage tyres? Let us explore further down.
Does Tyre Dressing Damage Tyres?
Regarding tyre dressings, there are plenty of options available on the market. With each option boasting about providing the desired shine that you wish to achieve. Although, as you may already understand to a certain extent, all tyre dressings are not made equally.
Essentially, there are two types of dressings available for your tyres, these being water-based and non-water based.
Tyre dressings that are made in a non-water-based fashion feature solvents or oils as a base. Although both versions boast unique features, they both offer great results. Regarding if either category causes damage to your tyres, if you opt for a brand that produces quality products, you should not expect the tyre dressings to cause damage to your tyres.
Although, multiple reasons indicate for drivers that water-based dressings for their tyres are much safer. As a result, water-based tyre dressings are recommended by providers due to their ease to wash in comparison to products that are oil and solvent-based.
Should an incident occur in which you apply too much of your dressing - you can distribute the excel fairly easily with the use of a tyre dressing applicator. Although, with this in mind, in order to get the best results, you should really be using a dressing applicator whenever you are using applying a product such as Profile. We will touch upon this tyre & trim dressing more below.
A tyre dressing applicator can benefit you in two ways. The first is that your hands will remain mess-free as well as provide you with the evenest finish possible. These are made possible due to the ease of the grip coupled with the ergonomic shape.
It is all well and good having a great applicator for the dressing of your tyres, however, having a quality tyre dressing is equally as important, if not more so.
Profile - Tyre & Trim Dressing
Introducing the Profile-Tyre & Trim Dressing. This is a multi-gloss level tyre and trim dressing that is applicable for all rubber and plastic exterior surfaces. With a blend of solvents and silicones, these offer a durable, quick-drying and best of all - water-repellent finish.
However, upon adding additional layers with the Profile-Tyre & Trim Dressings, one will leave a satin factory-level finish whereas additional layers will leave you with extra gloss. Boasting incredible durability and a no-sling formula that leaves an incredible finish. This tyre and trim dressing should be your go-to choice for cleaning your tyres.
Alternatively, should you require a complete detailing kit for your wheels and tyres - you cannot go wrong with our car detailing wheels kit. This incredible car wheel detailing kit boasts the following products:
The aforementioned Profile - Tyre & Trim Dressing
Cleanse - Tyre Cleaner
Axis - Acid-Free Wheel Cleaner
Tyre Cleaning Brush
Tyre Dressing Applicator
This wheel detailing kit is also available in both 500ml and 1-litre variations.
What Are Oil And Solvent-Based Products?
As mentioned above regarding non-water-based tyre dressings being made from oils and solvents. These do come with benefits rather than their water-based counterparts. One such benefit is that the shine on your tyres will last far longer.
This is naturally due to it being an oil-based product. In addition to this, they offer slightly better protection should your tyres cross dirty terrains as well as rainwater. It is worth noting also that these oil and solvent-based tyre shine products are both silicone-based as well as petroleum-based.
Silicone-based tyre dressings are often known for their impressive protective layer for their tyres as well as the wheels. Although, whilst you are washing the tyres and wheels of your car, you should be sure that the silicon residues are removed properly.
Whereas petroleum-based products are much harsher and can even cause potential damage to painted wheels among other surfaces should they not be applied correctly. As a result of this, you should not be shocked to find these tyre dressings to be on the cheaper side whilst also appearing as aerosol-based foams.
Lastly, you should also be aware that petroleum-based tyre dressings are highly flammable and should be dealt with by using the utmost care.
Why Do Tyres Lose Their Shine?
As you can probably imagine, due to their frequent interactions with various contaminations whenever you are travelling - this will result in your tyres losing their shine rather quickly. Whilst certain tyres that you can purchase might be repellent to dirt and grime, this will not guarantee that they will not eventually find their way into the crevices of your tyres. This means that over time, this will eventually cause your shine to wear off.
To get your tyres looking as if they have come straight from the showroom. For this, you will need to opt for a quality tyre dressing.
Conclusion:
That's our thoughts regarding demystifying the myth of does tyre dressings damaged tyres. Should you have a quality tyre dressing provided by a trusted car detailing company, you should rest assured that your dressing will not cause any damage to your vehicle.
Not only this, but it will bring back a showroom-level finish to your tyres. Additionally, depending on the tyre dressing that you opt for, this will also give you a level of protection.
At Duel Auto Care, we host a vast array of car detailing and decontamination products to choose from. Browse through our extensive range today to get started. Additionally, take a look at our latest guides for the latest tips and discussion pieces relating to maximising the results of your car cleaning.