How Do Our Quick Detailers Work?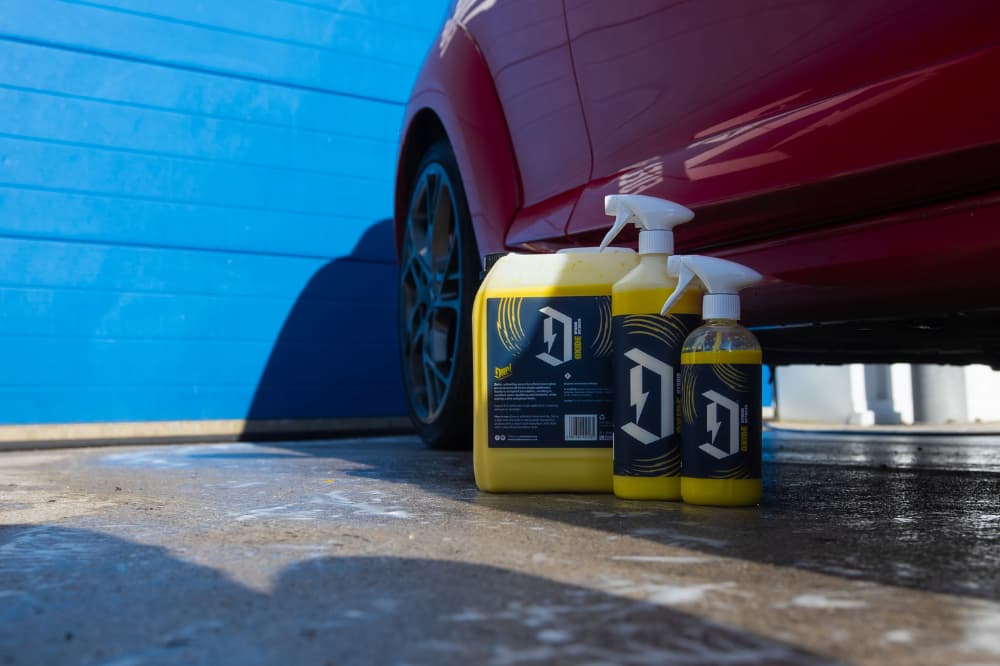 Quick Details are a fantastic option for car enthusiasts or those who are new car owners in general. They elevate any existing layers of wax and sealants to provide a showroom-Esque finish and shine.
This is made possible by leaving a thin layer of wax and/or polymers on top of the existing protective layer. You can apply a QD to previously unprotected paint also. Quick details also serve to be used during the final stage of the car detailing process. The reason being is that a QD (quick detail) can remove any fingerprints and dust following the car washing and polishing stages.
Car enthusiasts understand the importance of maintaining the image of your vehicle. Needing to frequently maintain the condition of your car can be a fairly time-consuming task. Especially if you work full time, clearing your schedule to pencil in a full car clean is likely off the table. Hence quick detailers. In this post, we will break down how our quick detailers work alongside how to use them as well as any things that you should consider.
How Do You Use Quick Detailers?
Quick detailers are extremely easy to use on your vehicle. To use your quick detailer (commonly known as car detailing spray) for your vehicle, you first need to take a microfibre cloth and apply a few sprays of your detailer. Once you have applied your quick detailer, begin the process by wiping down the areas of the vehicle you want to enhance. It is that simple. As the name suggests, a quick detailer allows you to obtain a shine to your car with the utmost ease.
Although, it is worth noting that if you are unsure about applying your new QD to your vehicle due to the exterior being rather dirty. You can always wash your car with a quality car wash shampoo. To get the best results for washing your car, we suggest that you adopt the two-wash bucket method. To do this, we offer our quality car rinse and wash buckets.
Granted, most car detailing companies offer a wide range of quick detailers as almost everyone provides them. Therefore, it is hard to figure out which one will be the most suitable choice for your money.
With this being said, we truly believe that we do not only provide the best quick detailers on the market.
The Duel Quick Detailing Sprays:
One of the quick detailers that we offer is the Nitro-Quick Detailer. This serves as the quickest way in which to add an unparalleled level of shine, depth of colour and gloss to your vehicle's paintwork. This is incredibly easy to use whilst being applicable on all exterior surfaces coupled with an amazing bilberry scent.
You can use the Nitro-Quick Detailer in places of your car such as plastic trims, wheels, metals and even glass should you find yourself short of a dedicated glass cleaner.
Alternatively, we offer the Oxide-Quick Detailer Hybrid. The Oxide is a car detailing spray that boasts unrivalled gloss and protection from a single application due to its amazing hybrid formulation.
Best of all, the Oxide-Quick Detailer Hybrid lasts an amazing 6-8 weeks whilst being coupled with amazing water repellency and durability. Serves as the ideal short-term spray sealant that can easily achieve amazing results per single application. These two detailing sprays serve as fantastic options for car enthusiasts or those simply looking to get the best results with cleaning their car.
Things To Know About Quick Detailers:
Now that you know what a quick detailer is and what products to use. It is also worth noting when is the best time to use your new QD. The best practice regarding using your new detailing spray is to use it straight after you have washed your vehicle.
This way, you can rest easy knowing that you do not have any dirt or dust on the surface of your car coupled with the fact that you will be implementing additional gloss and protection to your finish. Alternatively, you can also use your QD during the drying process, essentially having it as a drying aid.
Although, should you use your new detailer improperly, you may find that this can lead to potential scratches as well as swirls on the paintwork of your car. This most commonly happens whilst you are using the spray to eliminate any dust and dirt.
In addition to the above, you should not use your quick detailer to remove dust and dirt in between washing your car. This should only be attempted if your QD is specifically stated as being a waterless wash.
How Much Protection Does A Quick Detailer Provide?
Regarding how much protection a quick detailer provides, it delivers fairly little protection to your car's paintwork, although some detailer sprays offer more protection than others. You should only opt to use your QD in regards to protection between the waxing or sealant stage - rather than using it as a stand-alone product for protection. The reason for this is that it does not provide the same level of protection regarding UV and dirt repellency.
Are Quick Detailers Useful On Glass?
Are quick detailers useful on glass? Well, most quick detailer sprays that are available on the market are applicable with glass. However, should you have a quality glass cleaner on hand, we suggest that you use that instead. The reason for their amazing results is that they contain shine-enhancing agents. With this in mind, however, this does not look particularly great on glass, although it is unlikely to cause any damage should any spray splash over onto the glass.
Conclusion:
That's our thoughts on how to do our quick detailers' work. Essentially, a quick detailing spray or QD is used after the wash process to bring an element of shine to your paintwork. Quick detailing sprays are a great addition also should you want to buff out any residue that is left over from the wash process.