How To Obtain A Factory Finish In Your Car Interior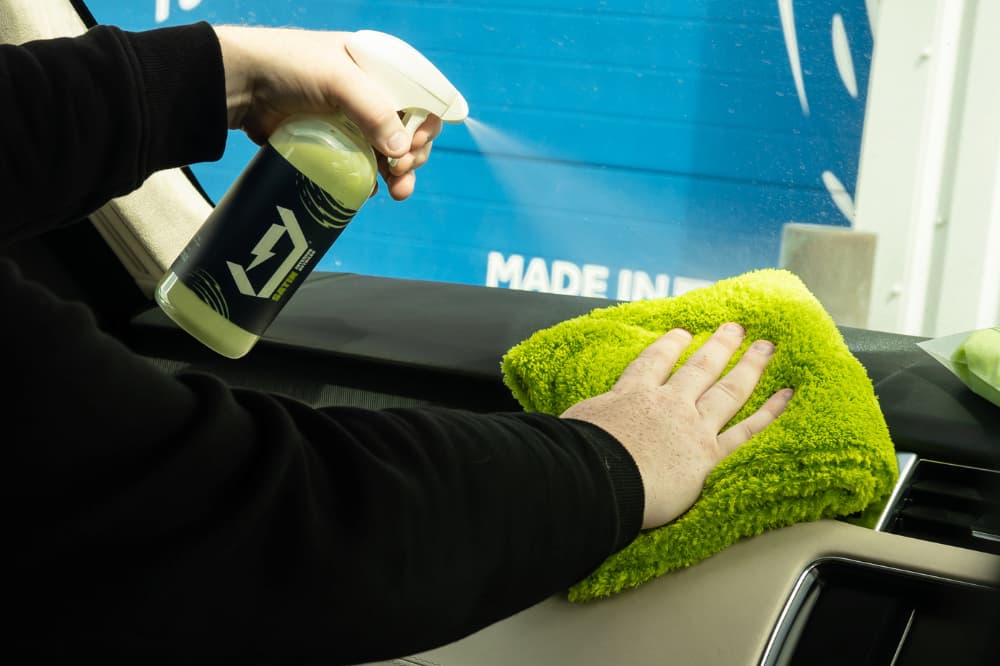 For car lovers, owning a car is one of the most valuable possessions to have. As a result of a car being so valuable, this will naturally require frequent maintenance to ensure the longevity and overall quality of your vehicle. Owning a car is an investment, therefore, it's only right to utilise products that will allow you to maintain the longevity and condition of your vehicle.
To undergo the full car care process will involve a thorough cleaning of both the exterior and interior of your vehicle. In regards to the exterior cleaning process, should you want to conduct a thorough car cleaning process - this will involve you needing to conduct both a pre-wash and a standard car wash.
However, owners who are simply looking to quickly wash their car, more often than not they will just opt for the standard car wash. The pre-was stage is a vital component towards obtaining the best clean possible. The reason why it is so important is due to the fact that the pre-wash stage will be remove as much dirt and grime as possible - ultimately making the subsequent process much more impactful.
Another key procedure during exterior car cleaning is the decontamination stage. The decontamination stage can be broken up into two key areas. The first is the chemical decontamination stage. This involves the removal of contaminants that has bonded to your vehicle, as is also the case for the second stage - physical decontamination.
The difference between these stages is that the first stage acts as an initial clean whereas the physical decontamination stage serves as a more meticulous clean. The reason for this is that the physical decontamination stage involves using a clay bar.
The final exterior car cleaning stage is finishing. Most notably, car finishing undergoes multiple stages such as
Quick Detailers
Sealants
Car Wax
Trim Dressings
and Glass Cleaning
Completing all of these steps will ensure you have maximised your exterior car cleaning. Although, if you are keen to obtain a complete cleaning experience - this is only half of the car cleaning exercise.
Below we will highlight how to obtain a factory finish in your car interior. Although, if you are a new car owner, we will provide some understanding of why cleaning your car interior is so important:
Why Is Cleaning Your Car Interior So Important?
Most car owners, often they will vacuum and dust their interior surfaces fairly regular and believe that this will be enough to maintain the condition of their car's interior - although, this is simply not the case. Depending on how long you spend in your car, this can result in the inside quickly becoming cluttered - not to mention a build-up of dirt among other contaminants.
As you enter your car, you are prone to bring in far more dirt than if you were to return home. The reason for this is that you are essentially using your vehicle to travel home - resulting in your vehicle taking a lot more abuse from a cleanliness standpoint. This is exacerbated considerably if you are in a place of work with manual labour, working with gas mains for example.
To prevent this build-up from happening - below we will highlight interior cleaning products and how to obtain a factory finish in your car interior:
The Quintessential Interior Cleaner Products:
Below we will list the quintessential car interior cleaning products that will ensure you obtain a factory finish for your car interior, although it is worth noting that we do not recommend continuous use on leather surfaces. Should you opt to use these on leather surfaces, it is advised that you should always test for the colour fastness before using them.
Logic - All Purpose Interior Cleaner:
The Logic - All Purpose Interior Cleaner is a concentrated all-purpose interior cleaner which is compatible with a wide range of interior cleaning jobs, especially fabric surfaces. This all-purpose interior cleaner can clean all interior surfaces whilst also providing a genuine factory finish. However, it is important to always test the colour fastness of this interior cleaner before using it. It is also recommended (as mentioned above) that you should not continually use leather upholstery.
Interior Dressing:
You mustn't leave the interior trim of your car unattended, to rectify this, we have developed an interior dressing and cleaner that is simply unrivalled: Introducing the Satin - Interior Dressing & Cleaner.
Satin - Interior Dressing & Cleaner
Our Satin - Interior Dressing & Cleaner is a soft dressing and cleaning product that boasts anti-static properties. This amazing interior car cleaning product will leave your surfaces clean and dust-free with no trace of any product residue that you might otherwise find with other interior dressing products on the market.
In addition, this also provides a Satin OEM finish whilst also providing a delightful scent to boot. To use this product to its full potential is rather simple. You should have a microfibre cloth to spray onto the cleaner and wipe over the desired surface.
Glass Cleaner:
The final part of cleaning your car vehicle interior is to clean the glass. To clean your glass most effectively, you will need to have a dedicated glass cleaner rather than using household items. For this, you will need to use the Optical - Window & Glass Cleaner.
Optical - Window & Glass Cleaner:
The Optical - Window & Glass Cleaner is one of the most powerful glass cleaners in terms of results. With fast evaporation times whilst being streak-free - proving to be the no-nonsense solution for your glass cleaning.
To use this amazing glass cleaner you will need to spray it on a dedicated glass cloth to wipe/buff to a perfect finish with the clean side of the cloth.
Soft Surfaces:
For those of you who are pet owners who love to travel - you have likely taken your dog(s) to a large park which has required you to drive to said park. As a result, this can often lead to your car requiring cleaning far sooner than expected.
Not to mention the unavoidable component that comes with being a pet owner - fur. Pet hairs will stick all over your car interiors, therefore you must have a dedicated pet hair remover that can even create stripped patterns if necessary. This will create an extra touch of class to your interior detailing.
These are the key products in our arsenal for getting the best results for your car interior. Although, if you are keen to obtain more hints for turning your interior spotless - take a look below:
Can You Clean Car Seats With Traditional Products?
In essence, you can use more traditional products akin to household items to clean your car interior. Although, as you may expect, you shouldn't expect better results than if you were to opt for products that are specially designed to aid in cleaning your car interior.
For instance, there are a lot of searches across the internet in relation to various cleaning products - asking if they are suitable alternatives to clean dashboards. For some car owners, this solution may prove suitable - although we cannot stress the importance of utilising dedicated products that will provide the best results.
This is what we at Duel Auto Care are proud to produce. Regardless of your needs, whether it be for cleaning your car's interior or exterior - we not only offer dedicated products but we have the best in class.
How Often Should You Clean Your Car Interior?
Should you be a new car owner, you may not be sure how often you need to clean your car and find that substantial buildup arises. Therefore, it is always good to have a mental date in your head to know when it's time to clean your car. We recommend that you should aim to thoroughly clean your car once a month - or at the very least undergo some visual inspection to assess.
This timeframe is subject to change, however. The reason this is subject to change as there are various factors such as how often you enter the car as well as the locations where you are travelling with your car.
Conclusion:
Successfully implementing these products to clean your car interior will guarantee that you obtain a factory finish akin to the condition it was in when it first left the showroom. For more information, take a look at the latest guides that we have available. Each of these guides will provide you with tips on how you can restore the condition of your car to its original state.
Alternatively, now that you have gained a showroom-esque finish for your interior, why not reinvigorate your new car scent by seeing how car air freshener sprays can help freshen the smell of your car.