How to maintain your Snow Foam Lance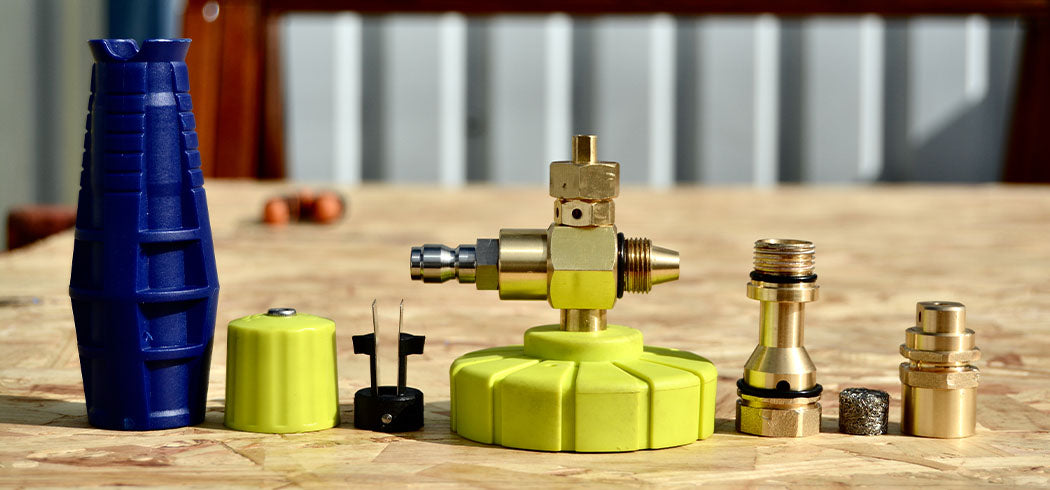 What's inside the box
You've just purchased your new Duel Snow Foam lance, and the unboxing moment is here. Excited? Butterflies? Punching the air? Let's take a look at what's inside the box.
You'll find, neatly packaged inside, One Duel Snow Foam Lancehead. One transparent litre bottle. A pickup tube, complete with built-in debris filter and, if selected, your pressure washer fitting of choice. We have many to choose from, such as Karcher, Nilfisk, Lavor and Bosch.
How To Set Up The lance
Setting up your Duel Snow Foam Lance is a simple, straightforward process with minimal mental calories needed to complete!
Take your Duel Snow Foam Lance head and the filtered pickup tube, turn the lance head upside down to expose the ribbed brass nipple and push the pickup tube firmly in place. Next, screw the 1-litre transparent bottle to the lance head. Attach your pressure washer fitting to the quick-release connection if you require one. That's the set up complete, simple and straightforward, just like we said!
Features
The Duel Snow Foam Lance has a wash bucket full of features. Starting at the top of the lance and working our way down, the top adjustable dial changes the product ratio, then is generated and outputted through the lance. This means you can create a solution that is either more concentrated ( more snow foam product used) or less concentrated, which means more water will be used, creating a wetter foam. In short, you can control the thickness of the snow foam by adjusting this top dial.
The fan, or angle, of the spray pattern, can be adjusted by twisting the blue lance head cover left or right.
This will give you the option of a more direct stream of foam, which is great for windy days, or a wide fan which will enable you to cover a larger area quicker and more efficiently than the direct stream.
As standard, the lance comes with a high-quality stainless steel quick-release fitting, so if you're using a quick-release lance gun set-up, there is no need to order a separate pressure washer snow foam lance fitting at the same time.
The 1-Litre, the hard-wearing transparent bottle is a beast! It will stand up to some serious abuse,
and refilling with a product is a dream thanks to its wide or open neck feature, making spilt and wasted product a thing of the past. The reverse of the bottle also features clearly marked ml and Fl Oz measurements for accurate filling and dilution of your snow foam.
Being a wide-bottomed bottle means the lance is free-standing, putting to an end the annoying problem of a lance bottle that keeps toppling over!
We have also incorporated a filter plate at the bottom of the pickup tube. This is a belt and braces approach to ensuring no debris is introduced into the lance head, which could result in a blockage or reduced performance.
How It Works
A Snow Foam Lance is the tool that allows us to apply our chosen snow foam/pre-wash or, in some cases, sealants, for example, our renowned Polymer Spray Sealant FLEX.
Once the lance bottle is filled with your mixture of snow foam and water and the lancehead is attached to your pressure washer, a vacuum effect is created, which draws your snow foam mixture up through the pickup tube, and info the lance body. Here it mixes with more water (from your pressure washer) and is forced at pressure through the gauze in the lance head. This combination of pressure and water/snow foam mixture forced through the filter generates a foamy solution which is then pushed through and out the end of your foam lance head and sprayed onto the vehicle.
Maintenance
It's important to note that heavy maintenance shouldn't be necessary if you follow just a few simple instructions. However, we have detailed below just how to strip down your lance for maintenance. After using your foam lance, keep your lance head attached to your pressure washer and flush through with clean water. This will ensure that any remaining soap or detergents are removed from the lance body and the gauze filter, stopping them from clogging up. This is especially important when using FLEX Polymer Sealant, as the gauze filter could become clogged up after a few uses without being flushed with water. If this process is followed each time you use the foam lance, you should very rarely need to perform any extra maintenance. This may be slightly different if you live in a hard water area where the water contains a high mineral content which could cause deposits to form inside the gauze filter, more regular maintenance would be required in this situation.
Below you can see step-by-step how to disassemble your Duel Snow Foam Lance to access the gauze filter and the internal parts of the lance.
The re-assembly of the lance is simple. It's the same process, just reversed. The threads are sealed with thread adhesive, so a vice and a strong pair of hands will be required. Please note you may require PFTE tape or adhesive to seal the threads once you reassemble.
Tools required:
22mm Spanner
24mm Spanner
A small screwdriver or pick
Long Nose Pliers
4mm Alan Key
Vice