Our Guide to attaching a snow foam lance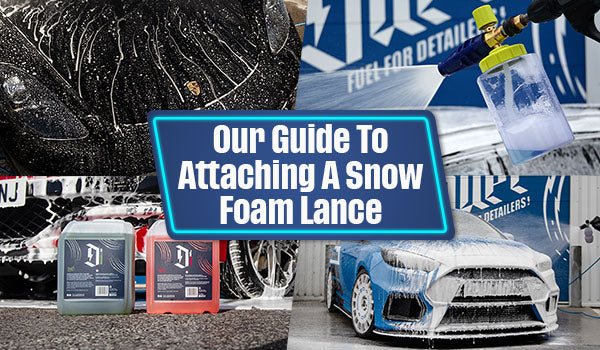 At Duel Auto Care, we host a complete range of quick-release snow foam lance fittings, which are available separately. Our Snow Lance fittings are compatible with all significant pressure washer brands such as Karcher, Nilfisk, Black & Decker Bosch, and Lavor.
Our Guide To Attaching A Snow Foam Lance.
Snow foam is crucial to getting the best results for your car cleaning. A snow foam lance should be used at the start of the pre-wash stage and is one of the essential components to remove road grime. 
The best results come from the application producing an excellent, even coverage that will eliminate any loose dirt and grime that may otherwise be swirled around by a wash mitt upon a contact wash. 
In essence, the longer you spend in the pre-wash stage, the less potential damage will be inflicted upon your vehicle's paintwork. This will also save you time during the latter stages of your wash.
As a result, the snow foam is a significant benefactor in decreasing the risks of swirl marks during the contact wash stage, coupled with dissolving and removing grime. The snow foam lance is genuinely a mandatory component of washing your car. 
Therefore, below we share our guide to attaching a snow foam lance. Although, if you need help with how a snow foam lance works - let us explain.
How Does A Snow Foam Lance Work? 
You might have heard the phrase 'pre-wash- or 'pre-wash stage' in regard to cleaning a car. A foam lance is one of the critical components in carrying out this process. In essence, a snow foam lance provides the initial cleaning and removal of dirt and grime - before you even make contact with your car. 
For a snow foam to work most effectively, the foaming agent becomes active once it is pressurised with water. Following this, you will find that the pressure of the water will then create a vacuum siphon filter in which the snow foam lance will draw the product up and out of the bottle - mixing with the water of the pressure washer, which will then activate its foaming capability and cleaning properties. 
You will know this has been a success when you find the vehicle's exterior has been coated evenly.
Attaching A Snow Foam Lance: 
The critical components regarding the snow foam lance are the bottle, your choice of snow foam liquid and snow foam lance fittings. Regarding attaching your snow foam lance, however - it mainly lies in the fittings.
To attach your snow foam lance, you will need to know which fitting you will require for your foam lance. Although, if you are still determining which version you have, we recommend you look at the image provided on the lance fitting product page to find out which one you need.
The fittings that we offer are excellent. If you are looking to upgrade to a more efficient quick-release set-up or you have decided to switch up your pressure washer and require a different style of fitting - we have you covered. 
We also offer the standalone snow foam lance bottle and lid, should you require a spare. This bottle is a sturdy 1-litre bottle which can safely store all of your pre-mixed snow foam or even lance sealant solutions. 
With this in mind, if you opt for a snow foam lance, you will need high-quality foam to get the best results. 
The Best Snow Foam Products: 
The Assault - Pre-Wash Snow Foam we provide at Duel Auto Care is a fantastic choice for car cleaning enthusiasts. This specially created formulation boasts high-intensity cleaning power with long dwell times. These are coupled to create the perfect pre-wash product to eliminate heavy road grime without causing any damage to existing protections. 
The super foamy Assault Pre-Wash Snow Foam produces incredible cleaning power with long dwell times. This is also safe on wax & sealants whilst being topped with a lovely apple scent.
Alternatively, we recommend the Engage-Neutral Snow Foam. This snow foam provides a super effective and safe pre-wash that can produce a luscious thick foam that will dwell and cling to the surface of the vehicle for an extended period, allowing for maximum efficiency. 
This pH-neutral foam is safe on wax and sealants whilst also being ideal for maintenance washes. 
The Duel Snow Foam Lance:
A snow foam lance is THE must-have tool for detailing enthusiasts and professionals and is used for applying a whole manner of products, from Pre-Wash and Snow Foam to lance-applied vehicle sealants like our world-renowned FLEX Polymer Sealant.
The Duel Snowfoam Lance is manufactured using only the highest quality materials, from the transparent lance bottle to the stainless steel quick-release fitting and internal components.
The wide-bottomed, transparent and robust PVC bottle features a wide neck opening to ensure products can be quickly filled into the bottle without the need for a funnel or worry of wasting products by spilling.
A quick-release connection is supplied as standard, but many different quick-release fittings are available for most pressure washer brands, including Karcher, Nilfisk, Lavor and Bosch.
The easy-to-use lance body features two adjustment controls. The first is the top dial which changes the ratio of the product, i.e. your snow foam solution, and the water to create a thicker or a wetter foam and the second changes the spray pattern angle. This can be changed from a direct stream to a widespread fan, enabling large areas to be covered easily.
A wide-bottomed, free-standing Duel branded bottle completes the lance and, with its easy-to-read volume measurement markings and ergonomic design, makes refilling with your chosen product a piece of cake! The 1-litre bottle will hold enough solution to cover multiple vehicles. Only one vehicle to clean? The pickup tube includes a metal filter plate for peace of mind to ensure any potential foreign objects, such as grit or debris, aren't picked up and allowed to enter the lance body, which could cause a blockage or drop in performance from your Snow Foam Lance. Follow the dilution instructions on your chosen Duel Snow Foam product for the amounts required.
Conclusion: 
To attach your snow foam lance, the main thing that needs to be in place is having the correct fitting in check. With this, you are free to garner the best results for your pre-wash. Feel free to look at the other guides we have at Duel Auto Care. Whether you are a car enthusiast or a new car owner, we can help you get the best results.