The Key Differences Between Quick Detailer And Spray Wax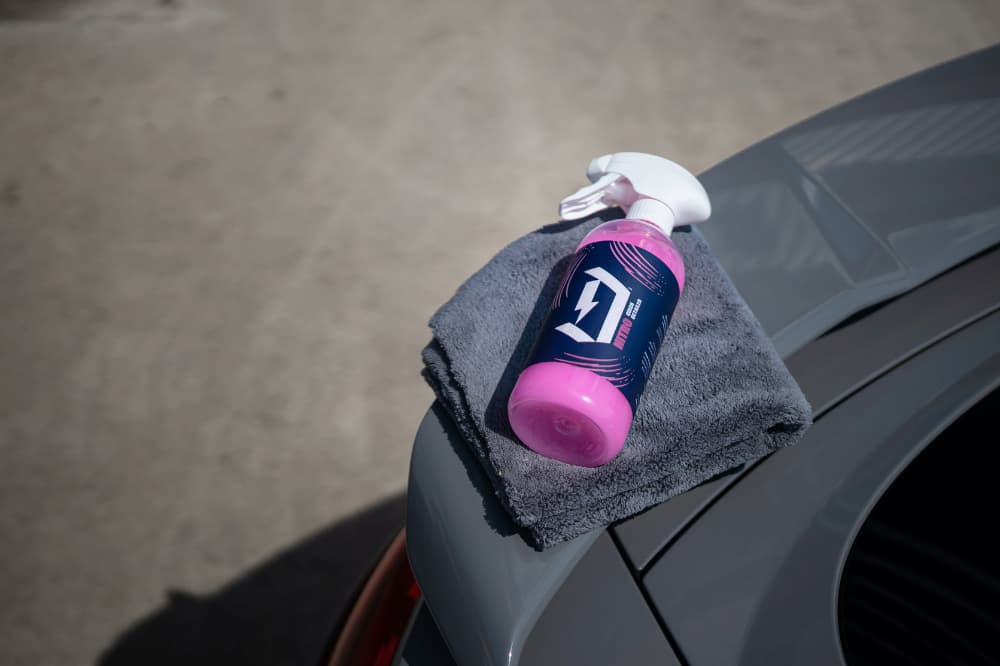 We have noticed that a large volume of car owners are under the impression that quick detailers and spray waxes are similar, if not the same product entirely - only named differently. This is in fact not the case as they serve two separate purposes. In our latest post, we highlight the key differences between quick detailer and spray wax.
What Are Quick Detailers?
Quick Detailers (or QD's for short) provide your vehicle(s) with what is known as last stage protection - LSP for short. A quick detailer offers a quick hit of gloss to a freshly detailed car. Often you find that some detailers offer glossing properties only, whereas others offer a combination of gloss and sealant properties. Both are fantastic products, put simply only preference being the key deciding factor for car owners.
A quick detailer spray serves to give your already existing layer of wax a 'boost' of sorts. For instance, should your car wax coat be a few weeks old and is starting to show wear - this would be the opportune moment to apply your quick detailer.
What Are Spray Waxes?
Spray waxes are perfectly ideal if you are looking to add a fast and efficient way to provide an extra layer of shine between your car washes. Alternatively, they are great to keep your protective layer topped up. Spray wax is designed with convenience in mind as they are faster to apply than most traditional wax paste.
Applying wax to your car adds a thin layer of protection and will ensure that the shine stays intact. Due to the convenience of spray wax, you sacrifice the protection aspect for convenience. Although you find that on the market today you are able to apply spray waxes that provide a considerable amount of increased protection.
As a result, it is easy to think of quick detailers and spray waxes being surprisingly similar, however, below we use two of our products to explain the differences. 
The Nitro - Quick Detailer
The Nitro - Quick Detailer is the quickest way to implement an exceptional level of shine, gloss and depth of colour to any vehicle's paintwork. You can use this QD on plastic trims, wheels, metal and even glass - should you find yourself lacking a dedicated glass cleaner.
The Nitro - Quick Detailer is perfect for the final wipedown implementing a shine as you would only find show winners at events. The quick detailer that we have created at Duel Auto Care in Nitro is incredibly simple to use whilst being suitable for other exterior surfaces as mentioned above.
This QD adds depth of shine to your vehicle that provides an astronomical level of gloss and high colour enhancement that's extremely to apply.
The Oxide - Quick Detailer Hybrid
The Oxide - Quick Detailer Hybrid is a detailing spray that offers an insane level of gloss and protection all from a single application thanks to its hybrid formulation. The Oxide offers a conservative 6-8 weeks of protection after the initial application.
Oxide can often be tricky to work with to get the best results. In comparison to the Nitro - Quick Detailer, the Oxide will provide you with the best results given the hybrid formulation. It also comes with excellent water repellency and durability which means that the Oxide can comfortably be used as a short term spray sealant with its layering can produce extended durability. The Oxide can also be used on painted surfaces and wheels.
To Summarise
To summarise the key differences between quick detailer and spray wax, the Oxide is ideal for protection and increased water behaviour, incorporating more of a delicate approach to the application or for when you have more time to complete the detailing process. As well as offering a large amount of gloss and protection due to a single application. Offering protection for a conservative 6-8 weeks. Whereas the Nitro - Quick Detailer is the perfect product should you want a great level of gloss and enhanced colouring with the process being far quicker. Acting as the perfect tool for a final wipedown.
Why not take a look at our various other guides that we have available at Duel Auto Care. Serving to help car enthusiasts or new car owners in general maximise their car cleaning results.