How To Use A Tyre Cleaner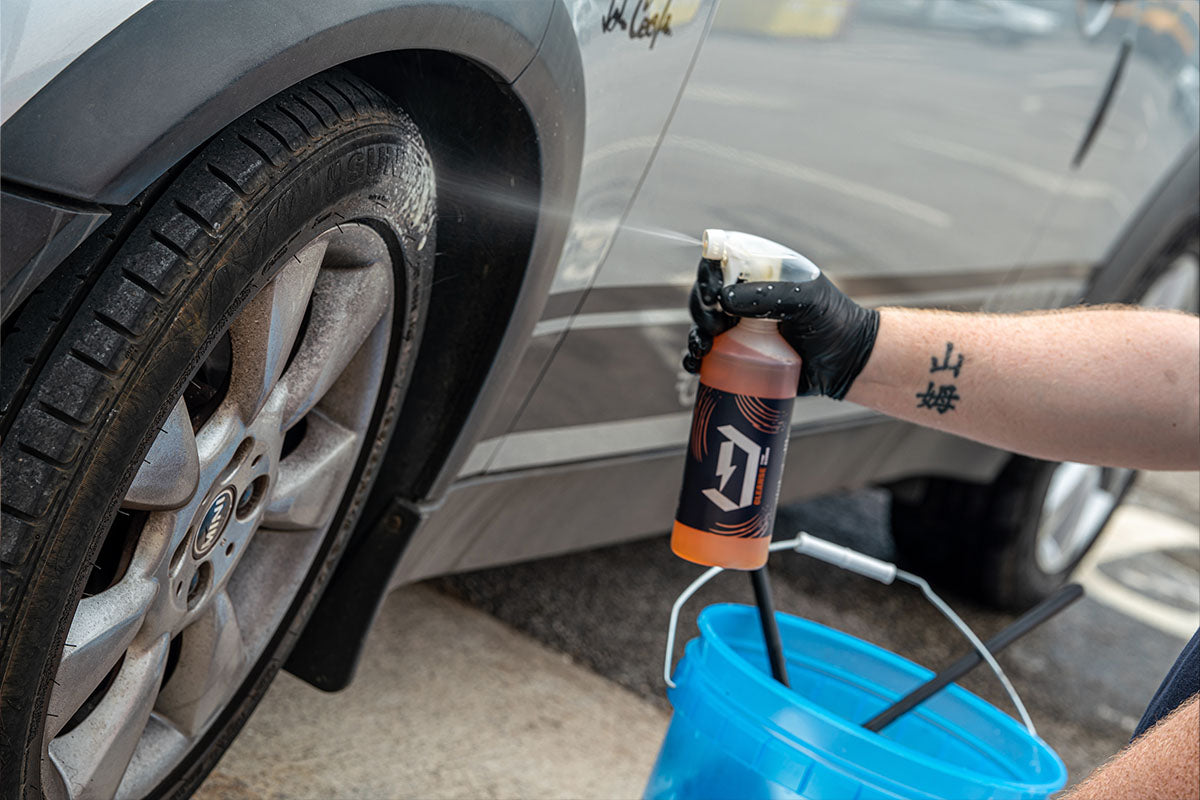 The process of cleaning your vehicle should always begin with cleaning your wheels/tyres. It is no secret that the tyres of your car are always going to be the dirtiest area due to their constant use. Attracting most of the dirt, grime and other contaminants. Not to mention the various surfaces that you might drive on. These examples coupled to make an area of your vehicle which will need more attention than you may not have previously realised.
Therefore, it is important that you use products that will get the best results. However, it is worth noting that different levels of dirt and contaminants require different levels of attention along with the correct tools in order to complete the job.
In this post, we will be highlighting how to use a tyre cleaner to garner the best results of your vehicle.
How To Use A Tyre Cleaner?
The first and most important thing that you will need is to to apply an effective tyre cleaner formulation to your tyres. One such product is our Cleanse - Tyre Cleaner. This tyre cleaner gets deep into the tyre which allows for easy removal of dirt and any other additional dressings. This is also great for dealing with discolouration of the surface wall of your tyres. This is critical as clean tyre walls are absolutely essential in achieving the best results whilst also ensuring the durability of your tyre dressing. However, in order to use our tyre cleaner effectively, we recommend that you follow the the steps provided below:
First, spray the Cleanse Tyre Cleaner around all of the wet tyre wall surfaces. Afterwards, use the Duel Tyre Cleaning Brush to scrub the tyre wall. Following this, rinse and repeat until you see the suds become white in colour - this way you know that that tyre wall is spotless and ready for the next stage.
Following this, you can then apply a tyre and trim dressing to the tyres of your vehicle. One such product is our Profile - Tyre & Trim Dressing. This is a multi-gloss level tyre and trim dressing that is compatible with all rubber and plastic exterior surfaces It is important to note, however, that the dressing of your tyres with the Profile - Tyre & Trim Dressing comes after the entire interior is cleaned - not straight after the wheel cleaning process.
We recommend the Profile - Tyre & Trim Dressing as it is very easy to apply whilst offering a great level of durability. Resulting in an incredible finish that restores plastic trims. In order to get the optimum results from the Profile - Tyre & Trim Dressing, however, we strongly recommend that you use the Tyre Dressing Applicator.
This applicator serves as the ideal tool for applying your tyre and trim dressing to the walls of your tyres and vehicle trim. This also comes with a useful grip section which is made from a denser sponge that ensures your hands are away from the potentially messy application.
How Often Should You Use A Tyre Cleaner?
Once you have applied your tyre and trim dressing products, should you wish to maintain your tyres with the same amount of results - we recommend that you use your tyre cleaning products with every wash.
A Summary of How To Use A Tyre Cleaner
Tyres attract the most amount of dirt on the vehicle due to their frequent use whilst out on the road. With varying levels of terrain, the amount of dirt and contaminants can quickly add up. Therefore, it is important that you have the correct tyre cleaner products. At Duel Auto Care, we boast an extensive selection of products that are sure to please new car owners or those who consider themselves car detailing enthusiasts. 
Should you be wondering how to clean your alloy wheels the correct way, we have a post that covers this topic. For more guides and information relating to maximising your cleaning with other parts of your vehicle - take a look at the many guides that we provide to find out more.