Can I Use Shampoo To Wash My Car?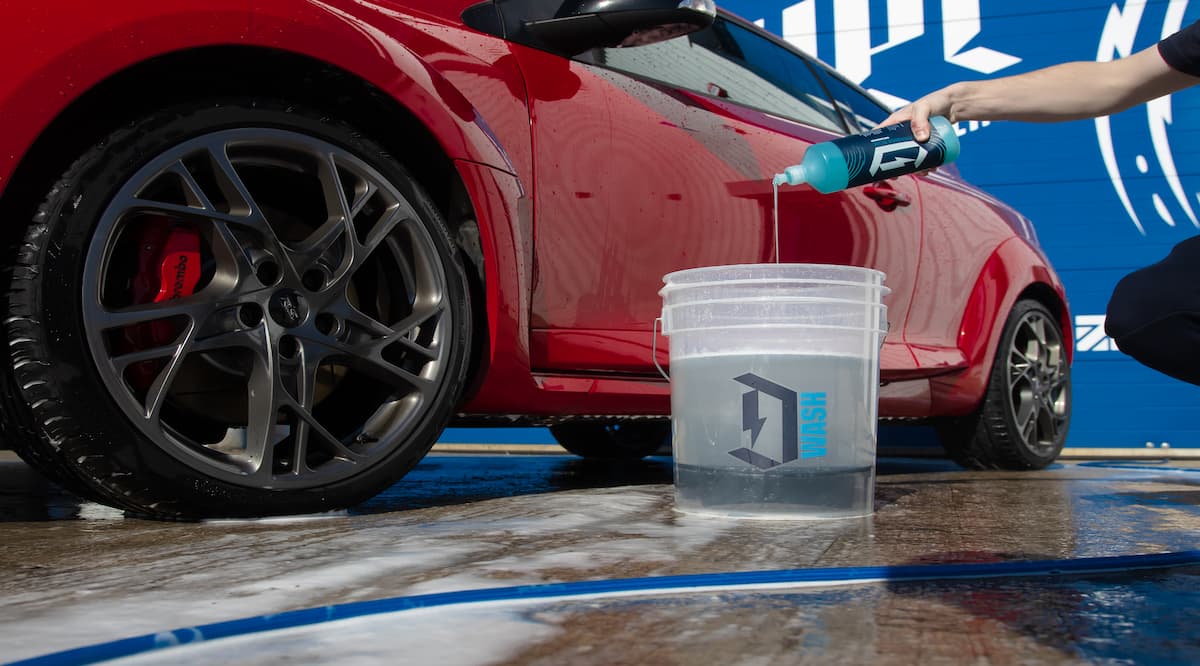 When you wash your car, often you might not have noticed that there is still excess dirt or particles remaining. It is only once you realise that you have run out of car shampoo? Of course, in this scenario - you perhaps might have resorted to using a hair washing shampoo as an alternative to getting the job finished.
As a result of the above example, you have decided to find out if shampoo (and conditioner) is acceptable. That's what this post will cover. We will answer the question 'Can I Use Shampoo To Wash My Car'? Of which we will be highlighting one of the best car shampoos on the market - the Bahama Blue - High Concentrated Shampoo. However, will any ordinary shampoo work?
Technically, Yes, However…
You can technically use any shampoo, such as hair washing shampoo to clean your car. However, there are some key things that you need to keep in mind. One of the main factors is that hair shampoos are not made to stay on surfaces for large amounts of time. As well as the most obvious being - they are not made to be used on car surfaces. Therefore, your newly washed car wouldn't have been nearly as clean as if you were to use a proper car washing shampoo.
Additionally, depending on the brand, you can't allow them to sit on the surface for long periods of time. Certain hair shampoos will result in your car paint deteriorating. So, in case you need to use hair shampoo to use on the car, you should apply them as fast as you possibly can while rinsing with water afterwards.
Ensure You Are Using The Correct Car Shampoo
The best and most effective way to wash your car is by following the traditional car washing process. You should always ensure to use the appropriate car washing soaps along with other washing materials to effectively clean the exterior of your vehicle.
As you use the appropriate materials that are specifically made for a car in mind, this will give you peace of mind with your car. This ultimately means that you will not have to worry about damaging the car's paint due to any potential misuse of the washing material.
In order to get the best out of washing your car, we suggest that you use the two bucket wash method. This ensures that you apply no excess dirt to your car as you are washing. Therefore, you are only applying fresh, soapy water to your car to get the best results.
Tips To Remember When You Are Washing A Car
Below are some tips that can save you time, and money whilst also saving your car in general.
Avoid Washing During Sunny Days:
Everybody loves a sunny day, and it would make sense that this is the best time to wash your vehicle. This, however, is something that we do not recommend. In order to effectively clean your car, you need to ensure that the soap rests on the car surface for a while first. Depending on the temperature, the heat may cause the moisture to deteriorate which will leave dry soap on your car's paint.
This can often be rectified if only a nuisance in that you will need to wipe your surfaces down twice. Once to eliminate the dirt and again to remove the dry soap.
Do Not Wash Your Car With A Sponge, Use A Wash Mitt Instead:
Using a sponge to wash your car is one of the most common mistakes you find people make whilst washing their vehicles. In short, washing your car with a sponge can cause damage to the paintwork of your vehicle.
As an alternative, we recommend that you wash your vehicle with the Microfibre Wash Mitt. This Microfibre Wash Mitt is an extremely soft and plush mitt that is perfectly ideal whilst contact washing your car.
Combined with the Bahama Blue Car Shampoo, this is truly of the most effective combinations to get the best results when cleaning your vehicle.
Always Make Sure That You Wipe The Car Afterwards:
When you are drying your vehicle after washing - you essentially remove both the water as well as any remaining minuscule contents that are remaining on the car. Doing this provides a spotless car exterior.
When Washing Your Car, Focus From Top To Bottom:
As you are starting to wash your car - we always recommend that you start from top to bottom and work your way down from there. Should you swap it around and wash from bottom to top - this will drag up residue and dirt across the vehicle. Rather than allowing it to naturally flow off the car.
Those who do wash their car from bottom to top will realise that they have essentially smeared all of the residues across the vehicle, without fully removing it, to begin with.
Avoid Scratching The Paint:
After a cumulative amount of time, depending on how much debris you have on your vehicle - this can lead to scratches on your car. Therefore, it is imperative that you be cautious while cleaning your car.
In order to avoid scratching the paint of your car, we first use a variety of pre-wash products. Most notably being the Nitty Gritty - Pre Wash and Degreaser as well as the Assault Pre-Wash Snow Foam.
The Nitty Gritty Pre-Wash and Degreaser serves to eliminate any surfactants and is designed to remove all traces of any road grime. Whereas the Assault Pre-Wash Snow Foam is a specially designed formula that boasts a high-intensity cleaning power. Providing the perfect pre-wash product for heavy road grime.
Do this by using the contact wash mitt against the paint of the car, this is to make sure that you do not scratch the paint. Once applied, let the soap settle for a few moments then wipe off the dust with the wash mitt. Doing this will provide your vehicle with a fresh clean - most importantly being scratch-free.
Make Sure To Use Plenty Of Water:
Ensuring you use the right amount of water is important whenever you wash the surface of your vehicle. If you don't use the right amount of water, you will find that your cleaning becomes more lacklustre - which will ultimately result in a not so great clean.
Each of our products labels comes featured with correct measurements to maximise your wash.
To Summarise Can I Use Shampoo To Wash My Car?
To summarise can I use shampoo to wash my car, we recommend that you pick a car wash shampoo to wash the car effectively. Otherwise, you may not get full benefits after spending time washing. And as stated earlier, you are guaranteed that you will not get the same results as if you were to use products that specialise in their purpose.