How Does A Snow Foam Lance Work?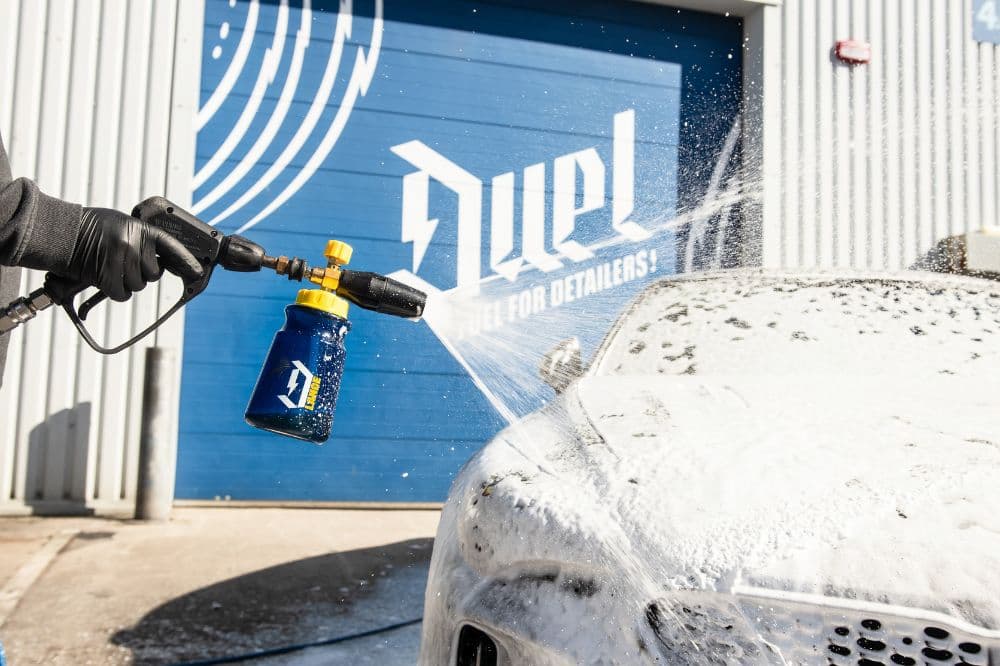 Car detailing has become a phenomenon for car owners in recent years. With satisfying imagery showcasing vehicles being drenched in snow foam which is a far more visually pleasing aesthetic in comparison to using more traditional soap and water wash. But for those who may be new to car detailing, or are new car owners in general - you might be wondering how does a snow foam lance work. Let us explain below, but first:
What Is A Snow Foam?
Simply put, snow foam comes into play during the pre-wash stage. This means that the snow foam will serve as a detergent that you will implement onto your car prior to providing a traditional wash. The pre-wash stage is a pivotal part of your car cleaning process as it serves to remove some of the initial dirt and grime from your car which allows for your full car wash to be as effective as possible.
As the name suggests, however, you are right in imagining that the snow foam produces a thick, white foam which can leave you feeling satisfied upon completing the pre-wash stage. The snow foam solution is a thick, clingy foam that sticks to the surface of your vehicle. In order to ensure that your foam will cling for a longer amount of time, you should opt for a nice even foam which will ensure you the best results possible.
In order to get the most effective results with your snow foam pre-wash, we suggest that you use the following products below:
The Snow Foam Lance:
Our incredible Duel Snow Foam Lance is the perfect application for all of your snow foam/pre-wash products and lance sealants such as the FLEX Polymer Spray Sealant.
This snow foam lance is specially designed for using the highest quality stainless steel nozzle with a valve stern featuring a chemical-resistant 1-Litre, wide-bottomed bottles.
Our foam lance comes complete with the traditional quick-release connection, however, if you do not have a quick-release set up don't worry as we host a wide range of snow foam lance fittings to choose from. We host lance fittings for all major pressure washer brands such as Karcher, Nilfisk, Black & Decker, Bosch and Lavor. If you are unsure which fitting you need, we recommend reviewing the image provided on the page to assist you in finding the correct fitting.
We also supply a Snow Foam Lance Bottle. This is a 1-litre bottle that is perfect for your snow foam lance as it stores your pre-mixed snow foam or lance sealant solutions. Our spare snow foam bottles are the exact same size as those that come with the Snow Foam Lance. These spare bottles are made from a sturdy PETG transparent plastic with the branding of Duel Auto Care being prominently displayed on the front.
Assault - Pre Wash Snow Foam:
Regarding a high-quality snow foam that you can implement into your lance, we suggest the Assault - Pre Wash Snow Foam as well as the Engage - Neutral Snow Foam. Our pre-wash snow foam is a specially formulated mixture that serves as a high-intensity cleaning power with long dwell times. Creating the perfect pre-wash mixture that tackles heavy road grime without you having to worry about causing any potential harm to your existing protection.
In order to use the pre-wash snow foam effectively, we suggest that you apply 100ml of the snow foam into your lance bottle whilst implementing 400ml of water into the bottle also. After the mixture is applied, apply your snow foam across the entire vehicle exterior. You can also use a duel detailing brush to agitate the mixture. Lastly, you should allow the mixture to dwell and once satisfied - rinse with a jet wash.
However, it is worth noting that you should not allow the applied mixture to dry on the surface of the vehicle.
A Summary:
Snow foam is an incredible product for the pre-wash stage of the car cleaning process. The reason being is that it serves to loosen and remove dirt from the vehicle without the need to make contact with a wash mitt. Ensuring your car becomes as clean as possible prior to making any physical contact.
Why not take a look at the latest guides that we have available at Duel Auto Care. Each of our guides are specially made to cater to new car owners and car enthusiasts alike.